A Believer From The Beginning
Team Willis Equestrian's barn manager Amy Westcott-Allen has witnessed steamed hay's international spread firsthand.

By Kim Miller | Equestrian Writer
Amy Westcott-Allen and Haygain have common ground in their geographic origins and odysseys. Both hail from Southwest England and have journeyed all over the world thanks to their passion for horses.
Amy was an accomplished jumping professional in England before coming to America as barn manager for Australian international rider Rowan Willis. Haygain high-temperature hay steaming was the idea of an English owner frustrated by his horses' coughing. It has grown into must-have horse health equipment and Amy is one of its earliest believers.
Haygain's method of steaming hay at 100°C became commercially available in 2009. At the time in England, Amy ran a 30-horse livery yard in West Berkshire. She preferred to feed haylage over hay because the region's hay was generally dry and dusty. Soaking hay for that many horses was too labor intensive, especially in the cold and wet winters. So, she opted for haylage, a form of hay that is wrapped tightly in plastic right after it's harvested in the field. Its high moisture and digestive energy content presented challenges., however. The moisture accelerated the feed's passage through the digestive tract, so more had to be fed. And haylage's high digestive energy often led to excessive energy levels in those consuming it.
Soaking hay was an alternative, but that leaches nutrients and is a messy, laborious hassle. "It was a tricky situation," recalls Amy of the time before Haygain. She'd also heard of DIY hay steaming but wasn't impressed with that approach either. She knew instinctively what has more recently been scientifically proven: that steaming hay at insufficiently high temperatures actually increases the amount of bacteria and mould in hay.
"Then somebody told me about Haygain, and it turned out to be a great system for our barn," Amy recalls. Haygain steaming eliminates up to 99% of the dust, mould, bacteria and other allergens found even in hay of good quality hay. Amy relied on it to keep her horses healthy with lots of hay and none of its normal pathogenic and dusty drawbacks. "The horses were able to get a lot more fibre and that is great for them." Equine digestive tracks are designed to steadily consume large quantities of fibre and most horses thrive on a diet comprised mostly of hay.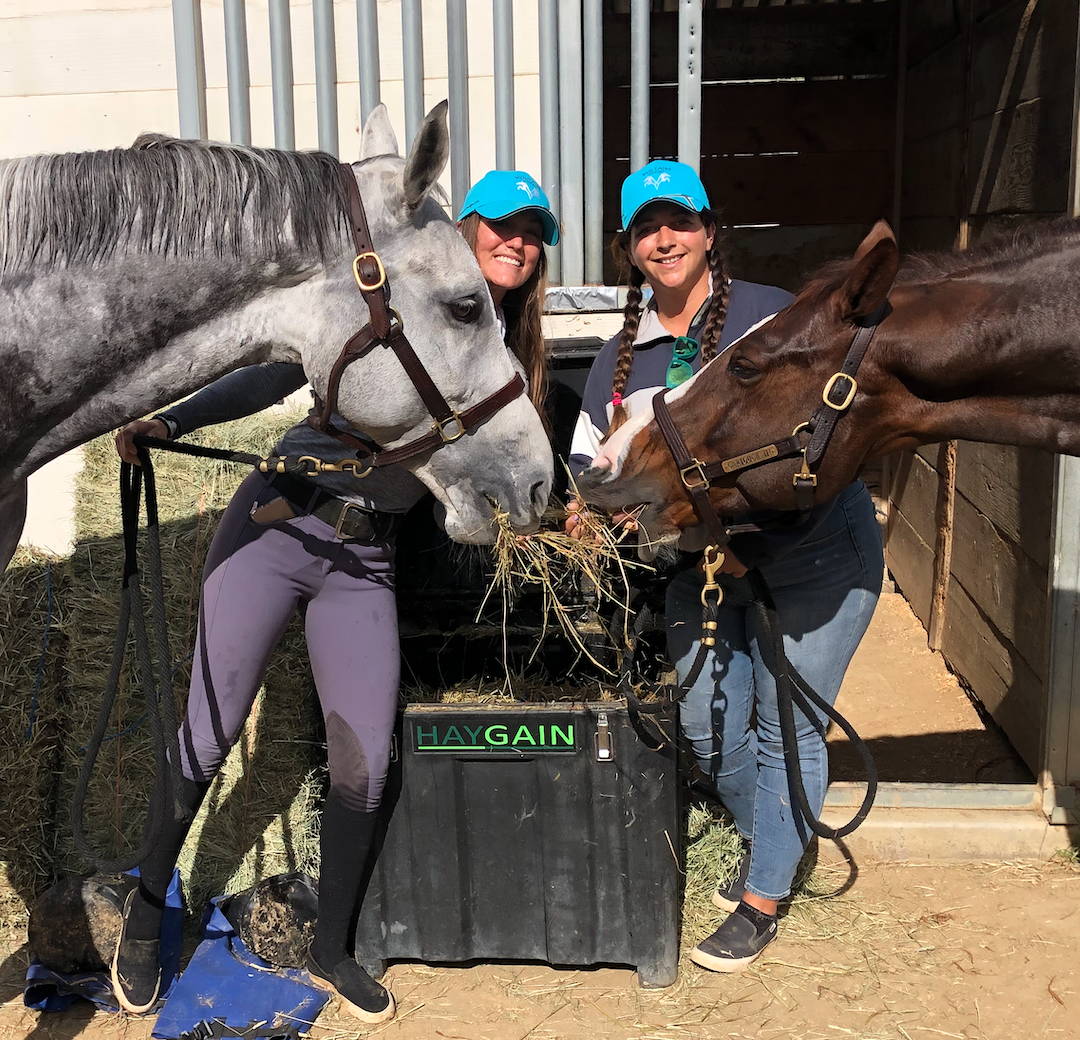 That was true for the horses in Amy's care then and now, even though she is a world away whizzing about America with Team Willis Equestrian. A top candidate for the 2021 Olympics, Rowan flew to international fame with his top mare Blue Movie during the 2018 World Equestrian Games in North Carolina. The then-little-known pair finished third in the first round of competition and leapt into the hearts of show jumping fans everywhere. Two rounds later, they stood a very respectable 12th among the world's best.
"Maybe if she'd been on steamed hay, we would have medaled!" Rowan quips. More seriously, "Her minor respiratory issues didn't stop her from jumping around, but she certainly wasn't able to do it to the best of her abilities." It wasn't long after that Rowan began steaming Blue Movie's hay, on the recommendation of the mare's veterinarian.
"Blue Movie always had a bit of a cough and after she started getting steamed hay, it was completely gone. It has been a fantastic benefit for the mare," Amy explains.
After joining Rowan's program in the fall of 2019, Amy had no trouble convincing Rowan to put all their horses on steamed hay. Haygain's most discussed benefit is preventing and helping manage respiratory problems that affect a surprisingly high percent -- over 80% -- of active sporthorses. However, Amy believes its benefits go beyond that. "Because we are always on the move and getting different hay, we want to make sure it is good, clean, dust free hay. I think steamed hay is more digestible, too." Lots of travel often goes along with stress-related colics and Team Willis Equestrian sees very little of that.
Having undergone the big change of moving from the U.K. to the State, Amy has extra empathy for the lifestyle changes Team Willis Equestrian's horses face in their peripatetic life traveling the show circuit. "How wonderful the support from Haygain is around the world!" Amy recounts. "When we were jumping in Geneva in 2019, Haygain organized a steamer to meet the horses at the show after their long flight from America. Customer service and care is absolutely paramount for the travelling competition horse and Haygain is one of the best companies to work with! We are very lucky!"
When Amy left the United Kingdom, Haygain was a ubiquitous brand in all segments of the horse world there. "There were a lot of racing yards in my area and I remember someone telling me that one of the yards employed a person full time to manage their 20 hay steamers that steamed all day," she says.
High-temperature hay steaming is approaching that status in the States. "I'm speaking to people about them all the time," Amy reports. Speaking of time, she's an unofficial expert on setting up simple hardware-store timers that automatically de-power the steam generators when the cycle is done. Her new steaming recruits include working student McKenzie Mezrah, who became adept at operating the steamers during the crew's stay in Southern California this past fall.
COVID-19 realities willing, Amy, Rowan, McKenzie and Rowan's longtime groom Robert will be all over the place in the coming months: Ocala and Wellington, Florida; Southern California's Desert International Horse Park; and Calgary, Canada. It all leads up to 2021's ultimate goal: the Olympic Games in Tokyo. Rowan was the top-ranked Australian jumper when what was to have been the 2020 Olympics were postponed.


Blue Movie is in top form and poised to tackle HITS Ocala's the Great American HITS $1 Million on March 28. Meanwhile, with Amy's help in all areas, Team Willis Equestrian is growing in owners, sponsors, horses, clients and accomplishments.
If all goes as hoped, Amy and Haygain will again share significant common ground: this time in Tokyo. As a US Equestrian partner and official high-temperature hay steamer, Haygain is poised to send steamers to the Games for the U.S. team members. The global company stands ready to help Rowan and the many other Steam Teamers expected to make their country's teams. Not many of them, however, will have Amy's long history with and belief in the brand.
Get the Haygain Newsletter
Subscribe for the latest news, health advice, special offers and competitions. Fill out the form at the bottom of this page.