Heather Weston, an endurance rider, started steaming her horse, Taffy's hay in early 2018 once he was diagnosed with Equine Asthma. Here is her experience and review of Haygain Hay Steamers.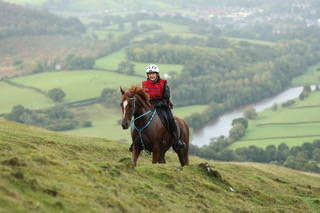 "My horse Vlacq Flint Accolade (Taffy) is very talented little horse, but not fast. He has always found going fast up hills a challenge, but that didn't stop him winning the 2-day 120km class at St Patricks Coast in 2016, or the 2-day 160km Golden Horseshoe class at the Golden Horseshoe in 2017. It was a particularly challenging year with miles of deep mud to plough through and there were only two finishers out of 10 horses, Karen Jones on her lovely horse, and me on my Taffy.
We went on to come 2nd in the 101km class at Cirencester later that year and came 5th in the Red Dragon 2-day 160km class at the Red Dragon ride in 2019. We won't talk about 2018 as although he completed 144km at Brodie Castle he injured his check ligament and had to retire! He overcooked it at the beginning of the ride - rider error.
When in October 2017 Taffy started to cough, I thought it was a virus; in February 2018 he was diagnosed with equine asthma. I was told that owners often never knew that their horses had the condition, but that their horses never performed as well as expected. So, Taffy hadn't done too badly, but this explained why he doesn't like going up hills fast. So, what to do... a hay steamer for the hay definitely, rubber matting and dust-extracted shavings plus a little Henry for sucking up the dust in the stables.
Having considered other steamers, I decided to get a Haygain, partly because it was designed specifically for the job, and partly because it looked more efficient and easier to use. Having cleaned out many wheelie-bins, I didn't fancy being upside down getting hay out of a wheelie bin style steamer. I have not been disappointed. I bought an HG 600 and have used it week in week out since March 2018.
The horses love the hay, Taffy has not coughed since I bought the steamer, and I am able to take a supply of steamed hay away with me as I also bought two of Haygain's big bags as well as the steamer. It is very easy to use and is totally reliable. I follow the instructions for maintaining the box and the steam kettle, because I want it to last and it makes sense. For someone like me (bit dippy at times) it is worth devising a way of propping up the lid when you take hay out/ clean it. I have used a folding saddle pole attached to the wall beside the steamer - works well!
Haygain as a company look after their customers, with good guidance and tips on the website, and with emails reminding you, for example, about using the steamer in frosty conditions. I always empty mine out after use (as instructed) and cover it with an old quilted stable rug in winter.
The research on the website indicates that the hay remains in 'steamed condition' for 72 hours after steaming so long as it is stored in a bag. For some trips, for example to the Cairngorms, this is not long enough so I am considering getting the small travelling version to save soaking Taffy's hay when I have run out of steamed hay. I know from experience that soaking is nothing like as effective.
The last thought I have is that steamed hay helps digestion. Poor Taffy suffered extreme surgical colic in April. Thankfully I was on it straight away and he was in Newmarket Equine Hospital within two and a half hours of his first screams. I have no doubt that having clean hay has helped him in his recovery. We are not there yet and having a net of hay each day is part of his treatment, even though he is out 24/7. He needs the bulk going through his system.
So, thank you Haygain, you have helped a very special little horse to continue competing at a challenging level and helped me deal with what is a tricky recovery process.
…and I mean every word!
With best wishes,
Heather"
Photos courtesy of David Saunders Photography
Get the Haygain Newsletter
Subscribe for the latest news, health advice, special offers and competitions. Fill out the form at the bottom of this page.