Laminitis & Flooding: No Match For Transformative Flooring
"ComfortStall and Haygain have truly transformed the lives of my horses."

By Kim Miller | Equestrian Writer
"My Haygain ComfortStall matting is worth its weight in gold right now with half a foot of water underneath them, yet the bedding is staying dry." This Instagram post came from amateur eventer Miranda Heynes. It was two days before Christmas 2020 and Miranda's four-horse yard was submerged after relentless rains.
She'd been very happy with ComfortStall Sealed Orthopaedic Flooring since installing it in 2019. Before converting what had been an agricultural barn to horse stables, Miranda was looking for sealed flooring. She'd had rubber mats and liked them except for what accumulated underneath and the process of hauling them out for cleaning.
Seeing ComfortStall at Haygain's Badminton Horse Trials stand, Miranda appreciated its orthopaedic foam instantly. "I have a foam mattress myself and I know the benefits," she remembers. "I thought it was amazing."

Miranda had little idea then how amazing ComfortStall would become for her two eventers and the family's two ponies. How the flooring withstood the flood was only the beginning.
"I called my sales rep in a panic and said, 'I'm sure I've ruined my stables,'" Miranda recalls of the flood aftermath. "My rep said, 'No, it will be fine. It will dry out.' I thought she had to be joking."
"I noticed nothing different in the foam after everything dried out," the owner marvels. That was again the case after a second less-severe flood. "The flooring is still as good as new."
How the flooring withstood the flood became a seemingly small miracle compared to how it helped Bertie, Miranda daughter's pony. After getting too much frosty grass with its higher concentration of carbohydrates, Bertie developed laminitis. His right front coffin bone rotated so much it nearly protruded through the sole of his hoof. Bertie's pain was severe, and the family weighed the tough decision between putting the pony down or going forward with the year of box rest prescribed by his vet.
"Our vet said had he not been on ComfortStall, he would not be alive," Miranda explains. "He was that crippled. A lot of horses or ponies could not have tolerated that pain or simply being in the stable for that long, but with the foam supporting him and such a comfortable environment, Bertie was able to do it." Expert farrier care through the year was equally important.
Today Bertie and Miranda's 10-year-old daughter zip around jumping courses as if laminitis never happened.
Bertie's stablemates appreciate the cushy surface, too. "One of my horses use to box walk. He was not very happy to be inside. Now he'd rather be inside much of the time. All of my horses come in on their own and they lie down a lot: at night and even in the day when I'm in there. They are very happy to be in the stable because it's lovely."
A chronic obstructive pulmonary disease diagnosis in one of her eventers put Miranda on the path to Haygain. "That made me more particular about dust and the odours in the barn," she explains. Haygain's Hay Steaming technology is well known for helping support respiratory health, and ComfortStall helps, too. Its one-piece top cover seals to the stable wall and prevents urine and other fluids from accumulating at the stable floor. The ammonia odour that arises from such accumulations is a urine off-gas that's harmful to sensitive tissues lining the horse's respiratory tract and to its eyes. It can compound existing respiratory problems or contribute to new cases.
ComfortStall's built-in cushion reduces the need for bedding to only that required to absorb urine. As bedding is second only to hay as a source of harmful respiratory particles, using less of it helps maintain healthy barn air. Budget is another ComfortStall beneficiary: "I'm probably saving 40 pounds a week," Miranda explains. "We used to bed our 14' x 10' stables all the way across, and now we just half bed. They just need a bedding place to wee and those shavings are easy to remove."
Miranda was told her horse with COPD would need ongoing medications to be comfortable, but that hasn't been the case since he moved into his ComfortStall. He also gets Haygain Steamed Hay, which is virtually free of the invisible respirable irritants that are the biggest cause of conditions on the Equine Asthma Spectrum. She purchased the Hay Steamer for her COPD horses but quickly decided all her horses and ponies would get it.

ComfortStall and Steamed Hay have proven a dynamic duo for the health of all the family's horses and ponies. "I don't give compliments easily," concludes Miranda, who is targeting the Badminton Grassroots Championships this May. "But ComfortStall and Haygain have truly transformed the lives of my horses."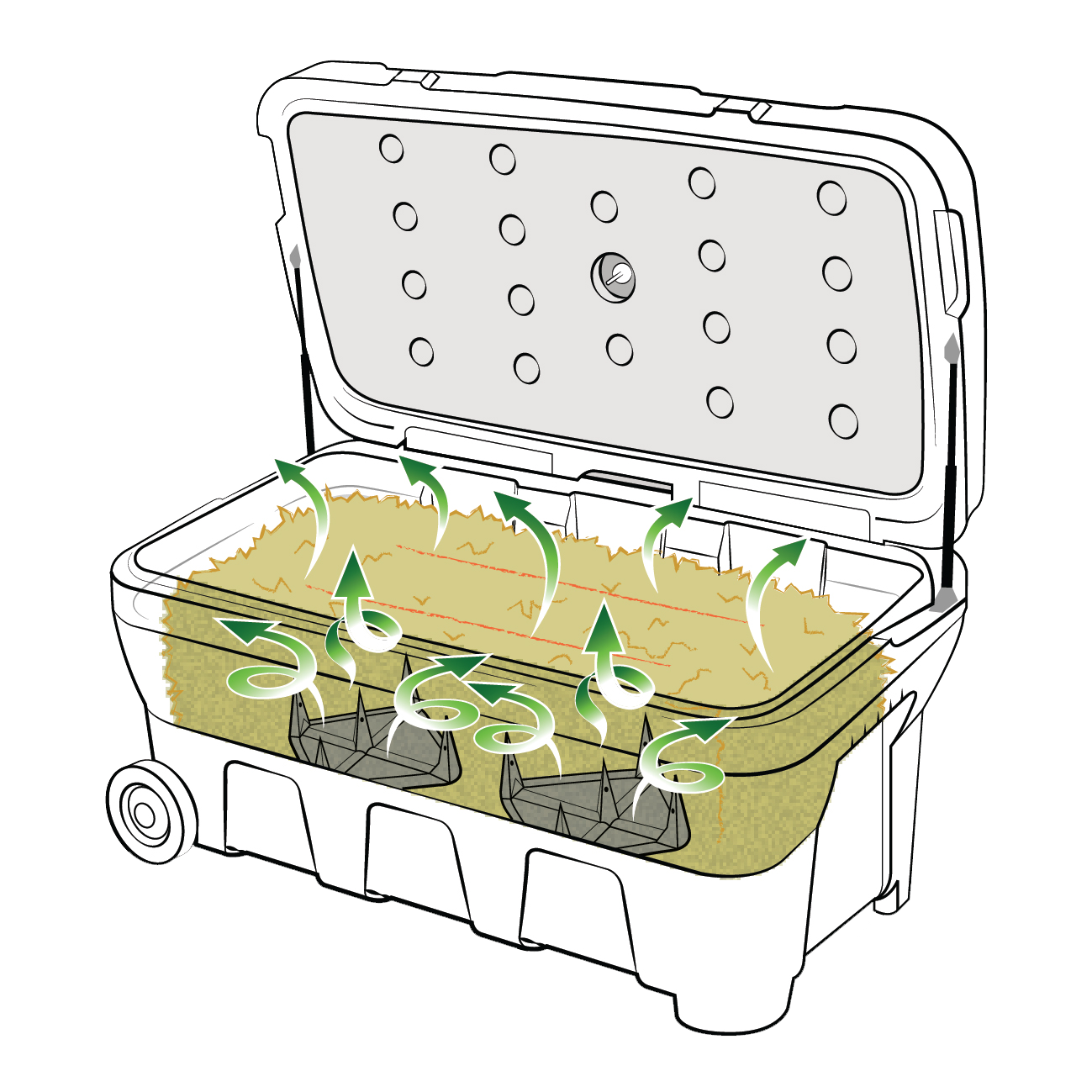 Want to know how it works?