Laura Tomlinson finds a Calm Core in Uncertain Time
Olympic gold medalist Laura Tomlinson, MBE, senses that her horses' experience with Haygain Steamed Hay is being seen in ever-widening circles amid increased awareness of equine respiratory health issues.

By Kim Miller | Equestrian Writer
Amid the swirling uncertainties of the past year, Olympic gold medalist Laura Tomlinson, MBE, finds a calm core in the balance between her humans - three young kids - and her horses. The children with her husband Mark range in age from 6 to 2 and the horses from Tokyo Olympic possibility Rose of Bavaria to the youngsters' ponies.
That balance helps with perspective on what she emphasizes are "first world problems." Like wondering how to plan her competition horses' fitness routine for peak performance when there's no way to know when there will next be an opportunity for that peak performance. Or, how the British Equestrian team selectors will make their Tokyo team decisions when potential pairs have so few chances to strut their stuff.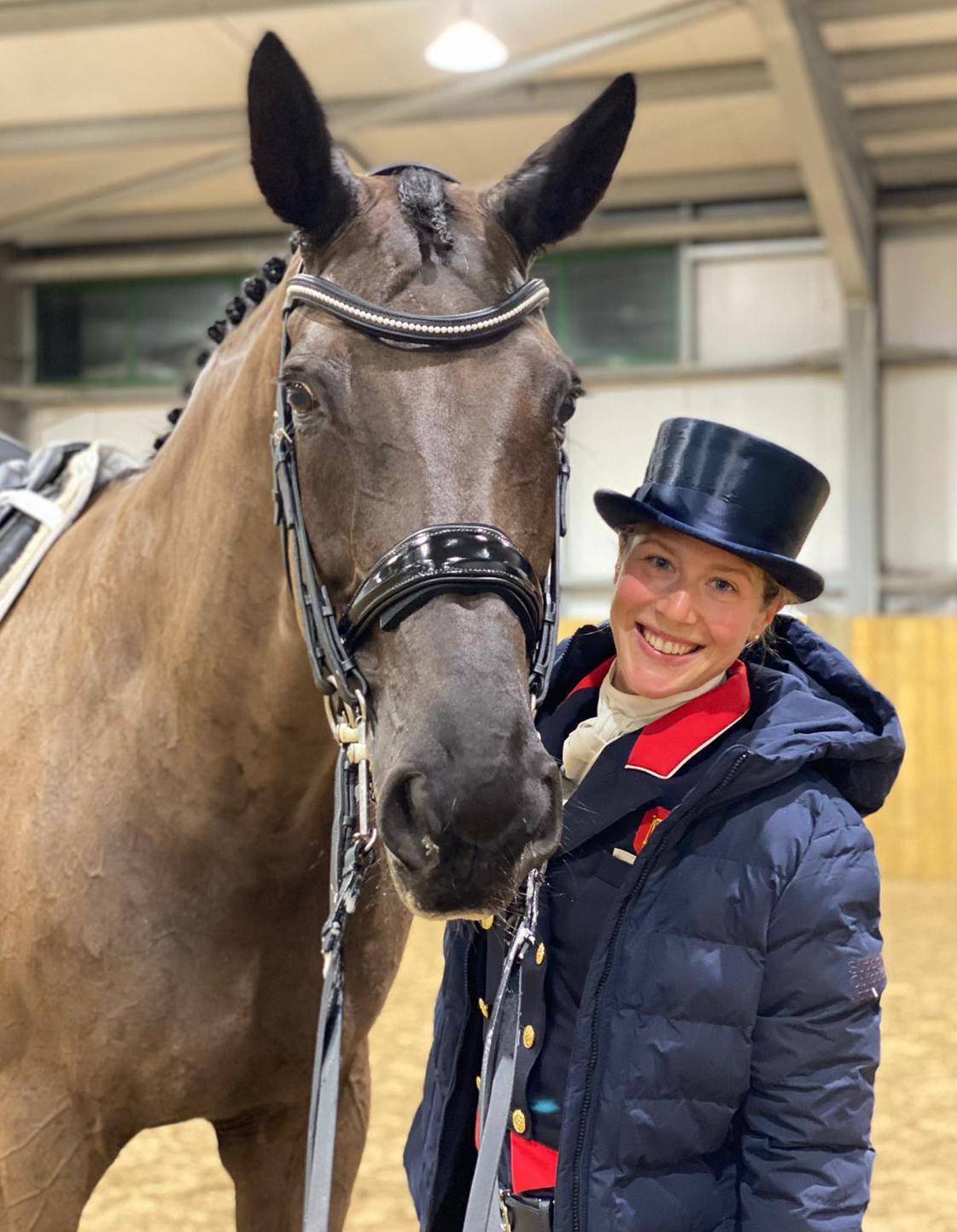 "I hope that we are able to show the work we've done at home and put it into practice in the show ring again," she says. "But at the same time, we have to be realistic. There's nothing to be done about it."
"It is hard to strategize," she continues. "Normally, you'd be peaking them and then dropping them down again." Working the horses economically, so they are ready to go on relatively short notice, but without overworking them, is the tricky goal.
Competitions are still on hold in England and current COVID conditions there complicate the likelihood of being allowed to compete outside the country. "What's around the corner has become very complicated."
As of mid-February, the target was Keysoe CDI3* in mid-March. Worst case, if the show season doesn't materialize, "I'm enjoying working my horses at home."
Rose of Bavaria, aka "Betty," is Laura's top contender at the moment. A fourth-place finish in the British National Championships this past Christmas was a happy indictor of things to come. "She is such a willing, honest horse," says Laura. "The biggest bonus is that she wants to please and wants to do what I ask."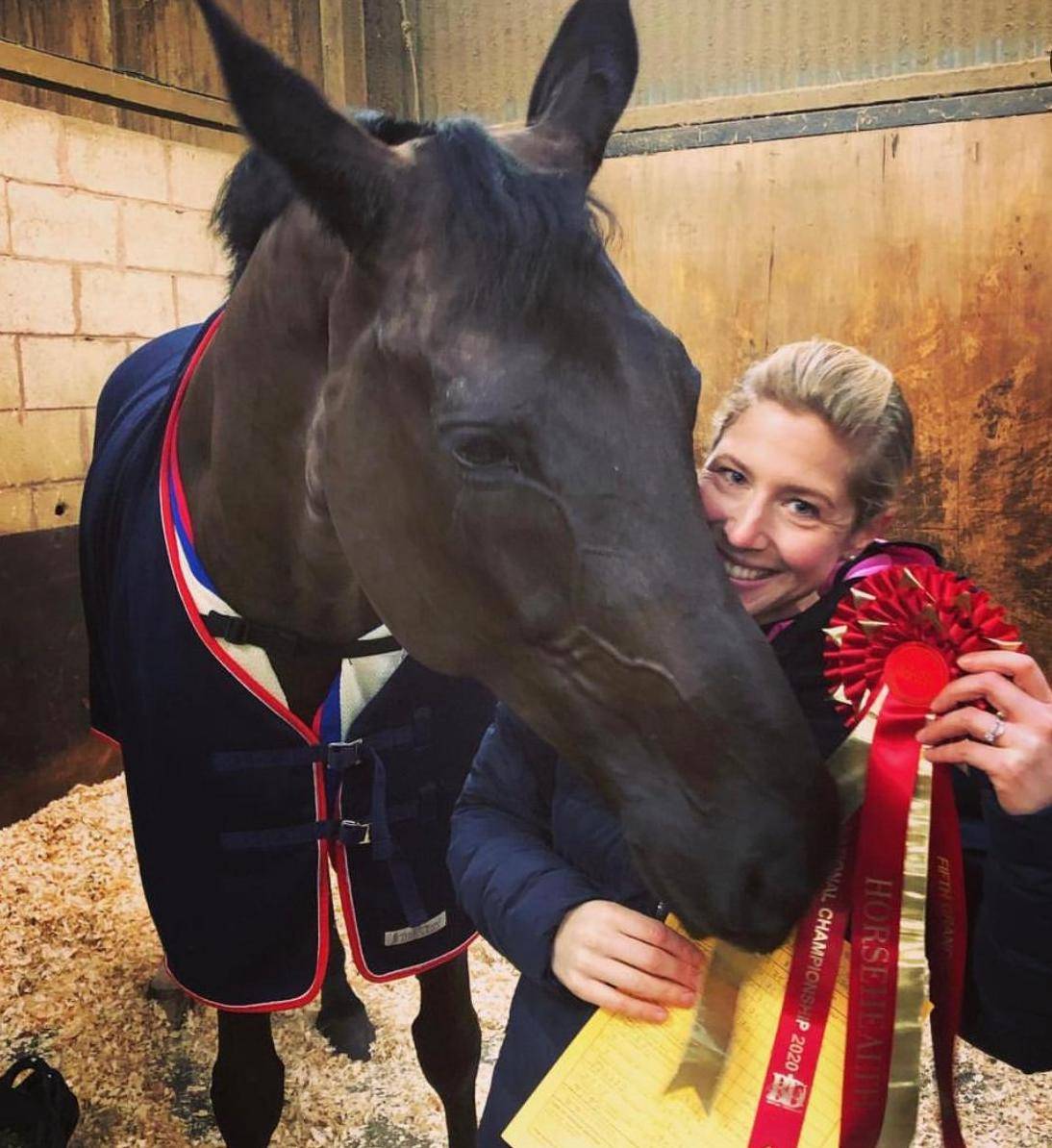 It's nice, too, that she's not impressed by the atmosphere at big shows. Two 74+ scores showing under the lights and electric atmosphere of the Horses and Dreams CDI4* in Hagen, Germany, last September indicated Betty's level-headedness. It was reinforced at the Championships. "She is sensitive on the inside, but things going on in the arena aren't a big deal."
Betty is immensely talented. She shares that trait, plus an equally down-to-earth barn name, with "Alf," Laura's most famous horse. Alf is Mistral Hojris, her partner in 2012 Olympic team gold and individual bronze on home turf in London, in 2010 individual World Equestrian Games silver and at the 2008 Olympics in Hong Kong.
Laura's competition horses don't leave home without Haygain steamed hay. Her team began steaming a few years ago and have appreciated its benefits in several ways. Being able to feed low-dust hay without the nutrient leaching that happens with soaking has kept the occasional cough to a minimum. The added moisture in steamed hay is great for digestion and hydration.
It's not just the superstars who benefit from it. "It's such a useful thing and not just for the elite horses," Laura notes. "Even our kids' little ponies can get a cough if they've been in the barn and the steamed hay is really nice to have for them, too. We love all our horses and want them to be feeling at their physical best, so we are always looking for anything that can help with that."
Inspirations on Respiration
She's noticing broader recognition of equine respiratory challenges at all levels of the sport. While show attendance has been limited this past year, the frequency of Haygain references on social media confirms Laura's sense that more horse owners - and a more diverse strata of owners - have turned to high-temperature steamed hay.
"I think people are becoming a lot more streetwise about things," she observes. "And not just at the high levels of the sport. Competitive amateurs are starting to see more of the benefits coming out of sport science. As far as horse management, they're more interested in things that can give them an edge and keep their horses going at a good level for longer."
Thought toward new management practices is evolving. "In the past, there's been kind of an equestrian attitude toward doing things the way they've always been done," she continues. "Especially the younger generation is receptive to changing the way things are done and taking advantage of a bit of science."
She's seen that play out at her own yard in Gloucestershire. Along with her own horses, the property is home to a livery and several nice amateur horses. "It's been nice to be able to influence and tweak a little the management of their horses."
The growing number of Olympic-level contemporaries using steamed hay has created a "snowball effect" of awareness around respiratory health in general and hay steaming specifically, Laura observes. "But the biggest influence is when people see the effects for themselves. When their horses have an issue and then it's gone, you can't get better proof than that."
Get the Haygain Newsletter
Subscribe for the latest news, health advice, special offers and competitions. Fill out the form at the bottom of this page.