Riding Horses is Complicated for Blind Paradressage Star. Feeding Healthy Hay Isn't.

By Kim Miller | Equestrian Writer
Named after the pop star Betty Boo, Nicky Greenhill's international paradressage partner also requires star treatment--especially regarding what she'll eat. "She's really fussy," says Nicky, who was the top-rated Grade IV paradressage rider in the UK last year. "She doesn't like soaked hay and she wasn't even that keen on dry hay."
Haygain Steamed Hay, however, is a different story. When the blind equestrian received an HG One High Temperature Hay Steamer early this year, Betty dove right into her meals of freshly steamed forage. Nicky was tempted to join her. "It smells absolutely delicious."
Haygain's help with Betty's appetite is a relief for Nicky because the 13-year-old German Warmblood had tie-back surgery prior to coming to her private yard in Elstead. The common procedure, a laryngoplasty, ties the left side of the larynx (windpipe) into an open position to expand the airways. Betty breathes better but is also more susceptible to inhaling particles that can irritate and inflame the respiratory tract. Coughs had been a troublesome indicator of Betty's respiratory challenges.
Small bale haylage helped reduce the coughing, but its cost was tough to maintain year-round. Nicky has access to hay of great nutrient content from a local farmer, but she knows that nutrient quality doesn't correlate to hygienic quality regarding the quantity of respiratory irritants. Soaking Betty's hay as a last resort had many drawbacks. It boosts the water bill and wastage and it's a time-consuming hassle, especially for Nicky and her husband Gary, who handle all the horse care themselves.
Above all, Betty didn't like it.
Nicky knew that Haygain could help, but she didn't know how she'd manage it. "We'd heard that it was tricky to use, but I don't know where that came from. We worked out a way for me to measure the right amount of water to fill the boiler. I do up two hay nets, set the alarm for an hour and return to sort out the nets full of lovely steamed hay. It's easy!"
Best of all, Betty consumes plenty of forage and she's stopped coughing. Even a sporadic cough is not normal in horses and Nicky is relieved to have solved Betty's.
Tough News Taken With Grace
Nicky and Betty finished out 2021 as Great Britain's top ranked pair in their paradressage grade. They were on track for the Tokyo Paralympics last summer until bad news arrived in July: National federations can enter pairs in only four of the five grades that group riders based on their physical abilities. Nicky accepted Team GB's decision not to send a Grade IV rider with grace. "Sometimes being the best in the country isn't always good enough. It was really tough."
At the same time, Nicky is grateful to have been part of Team GB's remarkable paradressage program, the "gold" standard literally and figuratively worldwide. "Having had the support of the World Class Programme behind our team, having the funding and the support of other professionals was really great."
At 13, Betty is in her prime and Nicky is excited for what's ahead with the Benetton Dream mare. They continue to compete in both able-bodied and paradressage competition and to feel that each strengthens the other.
"It's a nice challenge," Nicky says of the dual track. "In able-bodied dressage the movement is harder, but maybe the judging is not so tough. Paradressage is all about the harmony between horses and rider. You may not need the best moving horse in the world if you have that relaxed, smooth partnership."
"You literally can't get away with anything in paradressage," Nicky continues. "The judges are very high level and they scrutinize every little thing." That scrutiny rewards excellent basics, and Nicky appreciates that.
Lost Sight: Regained Vision
Nicky was diagnosed with Stargardts disease at the age of 11. Today her vision is limited to shapes against a contrasting background. When show jumping was no longer an option because of failing sight, Nicky focused on becoming a top groom and an owner, more than a rider. That was until a horse no one else dared get on led her back into the saddle with a renewed idea of competing. She was talent spotted at her first paradressage competition, and things accelerated quickly to selection for the 2011 test event for the 2012 Olympics in London.
Despite the Tokyo disappointment, Nicky's passion for the international stage burns bright. Lacking sight in the distinctly visual sport of dressage is a unique challenge. "It's not just about being accurate in the test, it's in the training side of things."
She relies on her husband Gary and her coach Melissa Smith to be her eyes. Where a sighted rider can use the mirror to see if the horse's hock is as elevated as it feels from the saddle, Nicky relies on others to relay that to her – and quickly. "I need that quick-fire, in-the-moment feedback."
Nicky's ascent was also boosted by four years of coaching from Charlotte Dujardin, a fellow Haygain Steamed Hay fan. "Charlotte is very in-the-moment and black and white in her training and that really works for me."
In competition warm-ups and tests, Gary calls out the markers. "A lot of people think I count my strides, but for me that is too distracting and unreliable. I just ride my turns and circles on feel and on judgement of where Gary is and form a mental image of where I am in the arena."
Training and competing horses are complex endeavours for any rider and they are multiplied many times for those without sight. "It's incredibly complex, but I love the challenge horse riding brings, both physically and mentally," Nicky explains.

At least feeding her horses clean healthy hay has been made easy by Haygain.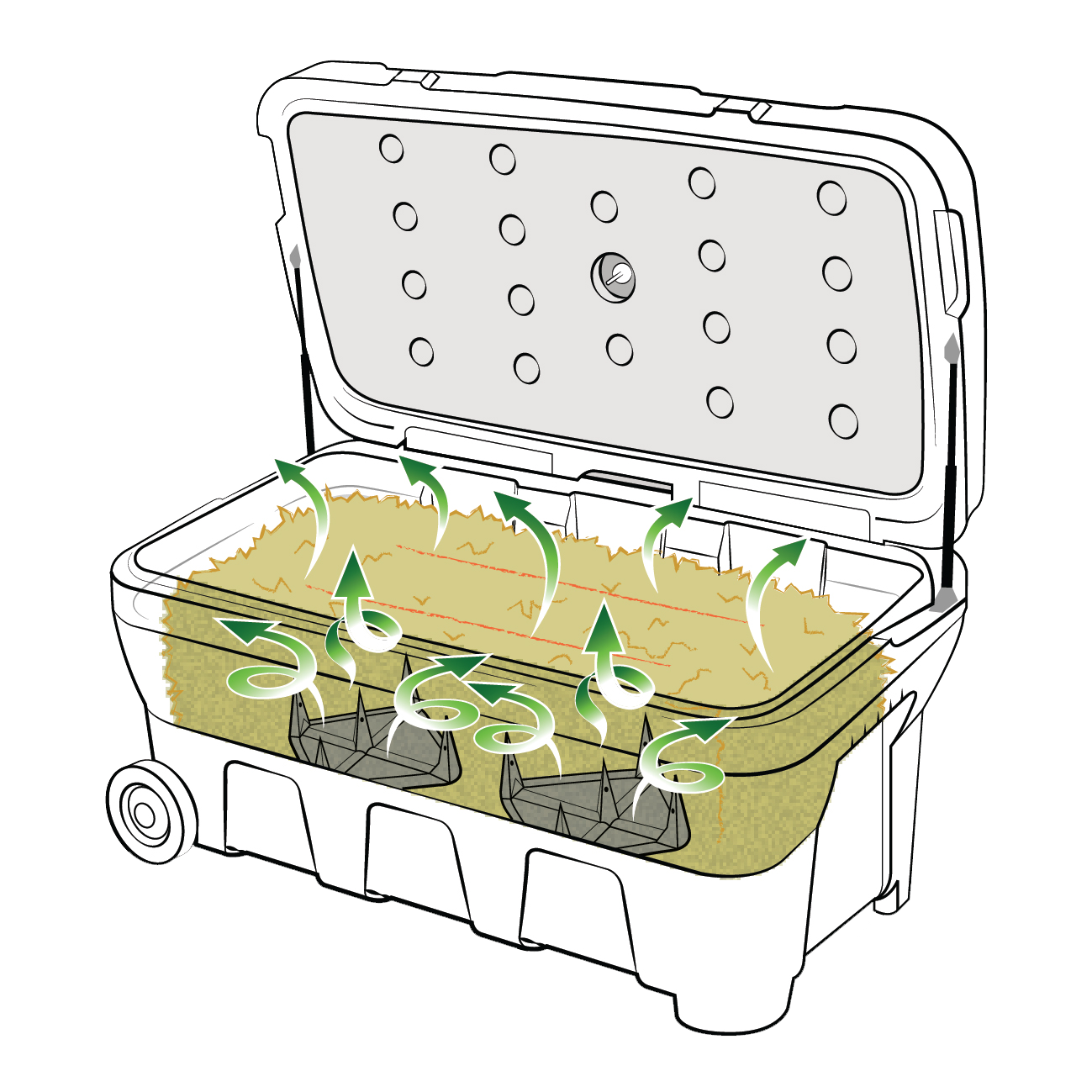 Want to know how it works?