Will & Olli Fletcher Carry the Family's Famous Show Jumping Flag into Great Britain's Future
Complementary benefits of Haygain steamed hay and Flexineb Nebuliser helps to keep these up and coming riders' string of horses in top shape.

By Kim Miller | Equestrian Writer
Will and Olli Fletcher have big shoes to fill in their family show jumping business. Parents Graham and Tina are household names with a long history in the sport. Will, 21, and Olli, 17, are grateful for the family support.
"A lot of people talk about having a leg up in the sport," says Olli. "Well, we've had two legs up. We could not have had more help and everything we've done would not have been possible without both of our parents."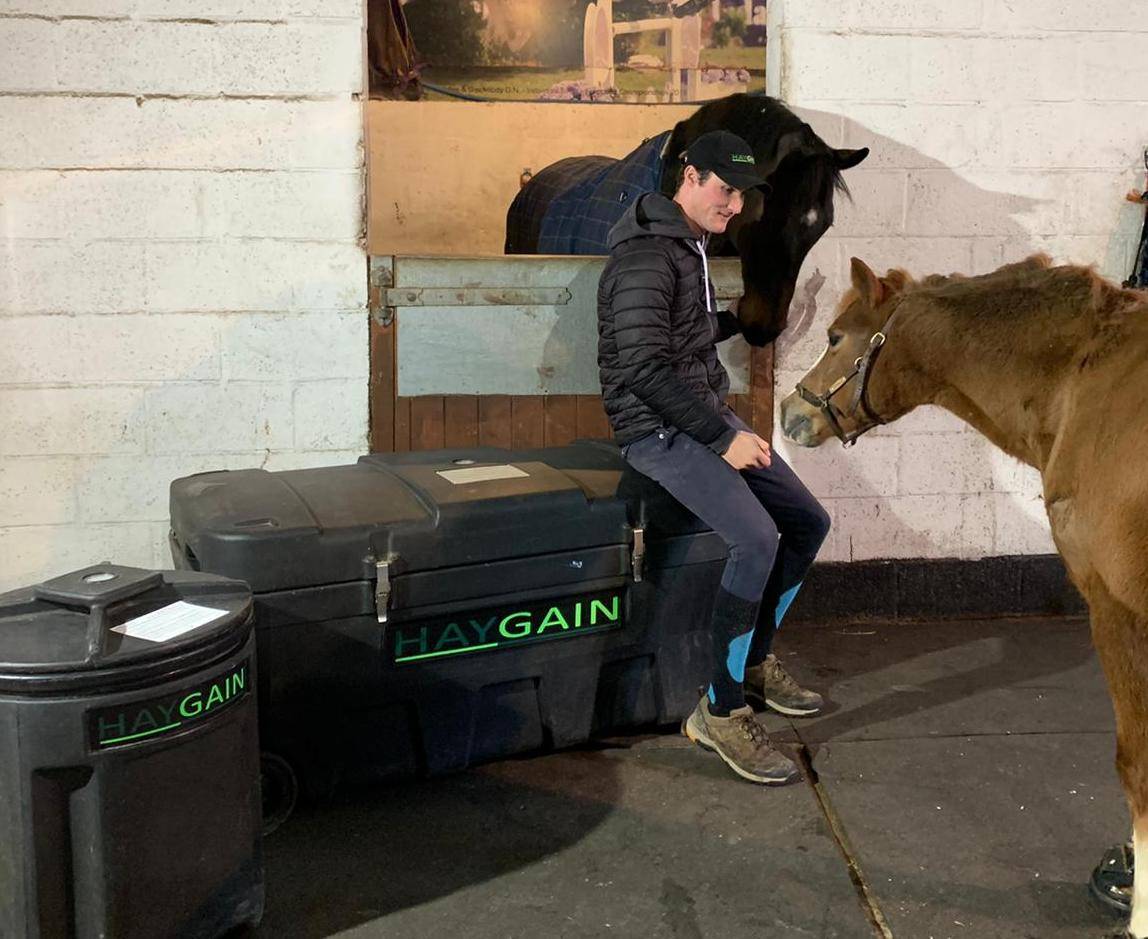 Will Fletcher at Pro Rider Academy
Along with imparting horsemanship and riding skills, the senior Fletchers have sought to raise independent, self-sufficient young men ready to create and make the most of their own opportunities.
Olli recently did that with a cold call text to world #1-ranked show jumper, Steve Guerdat of Switzerland. "I've actually never had any training with anyone but my parents, even on the flat," Olli explains. "During the first (COVID) lockdown, I got hold of Steve's number and I messaged him saying how much I would love to work for him for two to three weeks if he ever needed a spare pair of hands."
There is always plenty to do at Fletcher Showjumpers in Oxfordshire keeping a big string of horses fighting fit, but Olli recognized that some outside experience, learning from a master, would be a unique opportunity. "I told Steve I'd be willing to do anything and that if I could ride a few horses, that would be amazing. I didn't expect to hear anything.
"In fact, Steve messaged me right back," Olli continues. "He said, 'I can do better than that. Bring three of your horses with you.'" The resulting six weeks turned out to be "some of the best weeks of my life," Olli reports. The Swiss champion's "let horses be horses approach" resonated with the young rider. "If you treat horses like a piece of glass they are more likely to injure themselves," observes Olli. "I think I could visit 200 other yards and not see anything done the same way that Steve does it."
Above all, Olli was awestruck by Guerdat's work ethic. "He's the Michael Jordan of equestrians," he notes, referencing the American basketball player considered by many to be the world's best athlete. "I'd say Will and I have always been quite hard workers, but Steve takes hard work to a whole new level.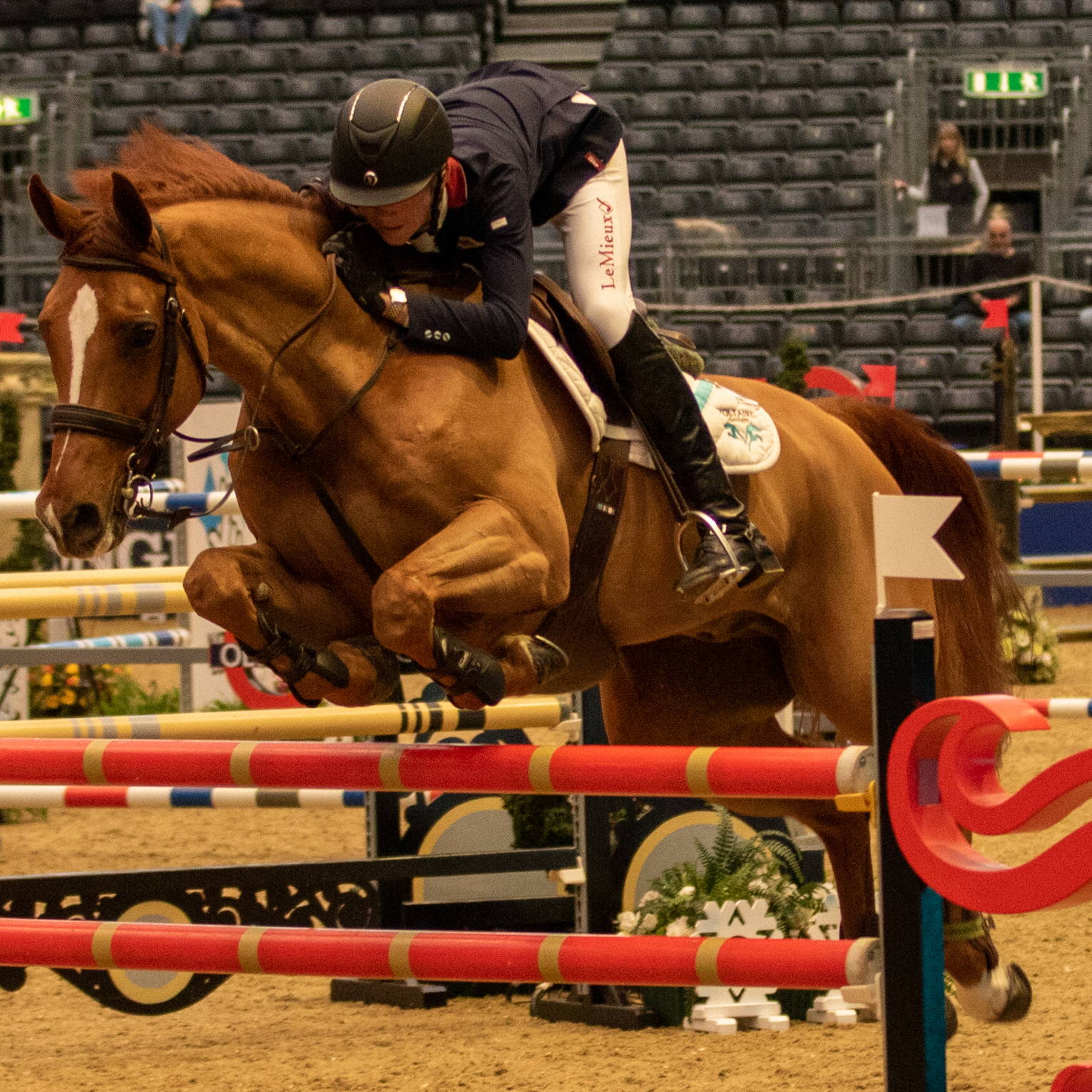 Olli Fletcher
Photo: Lucy Hall Photography
The Fletcher brothers are establishing their own solid reputations in both departments. As horsemen, they were quick to recognize the benefits of Haygain Hay Steaming when they saw it at a friend's stables while contesting a Nations Cup competition in Morocco in 2019. Will's top show jumper, Persimmon, suffered occasional respiratory issues that affect a shockingly high - 80-plus percent - of active sport horses. "His breathing was getting worse and we'd been soaking hay and doing whatever else we could," Will recalls.
High temperature hay steaming eliminates up to 99% of the dust, mould, bacteria and allergens that are main causes of respiratory problems. Eating clean hay made a big difference for "Percy." The Fletchers have several of their horses on it, primarily as a means of protecting their respiratory health.
The Flexineb Portable Nebuliser is another horsemanship tool the Fletchers were introduced to through Haygain, its distributor. The lightweight equipment aerosolizes saline, anti-microbial solutions and other treatments into microscopic droplets that are propelled through the respiratory tract and deep into the lungs. In a variety of situations, Flexineb sessions have proven perfect complements to a regular diet of steamed hay, Will reports
Will and Olli's resumes include multiple medals on the Junior and Young Rider international stages. They ended the COVID abbreviated 2020 jumping season with top outings at Hartpury.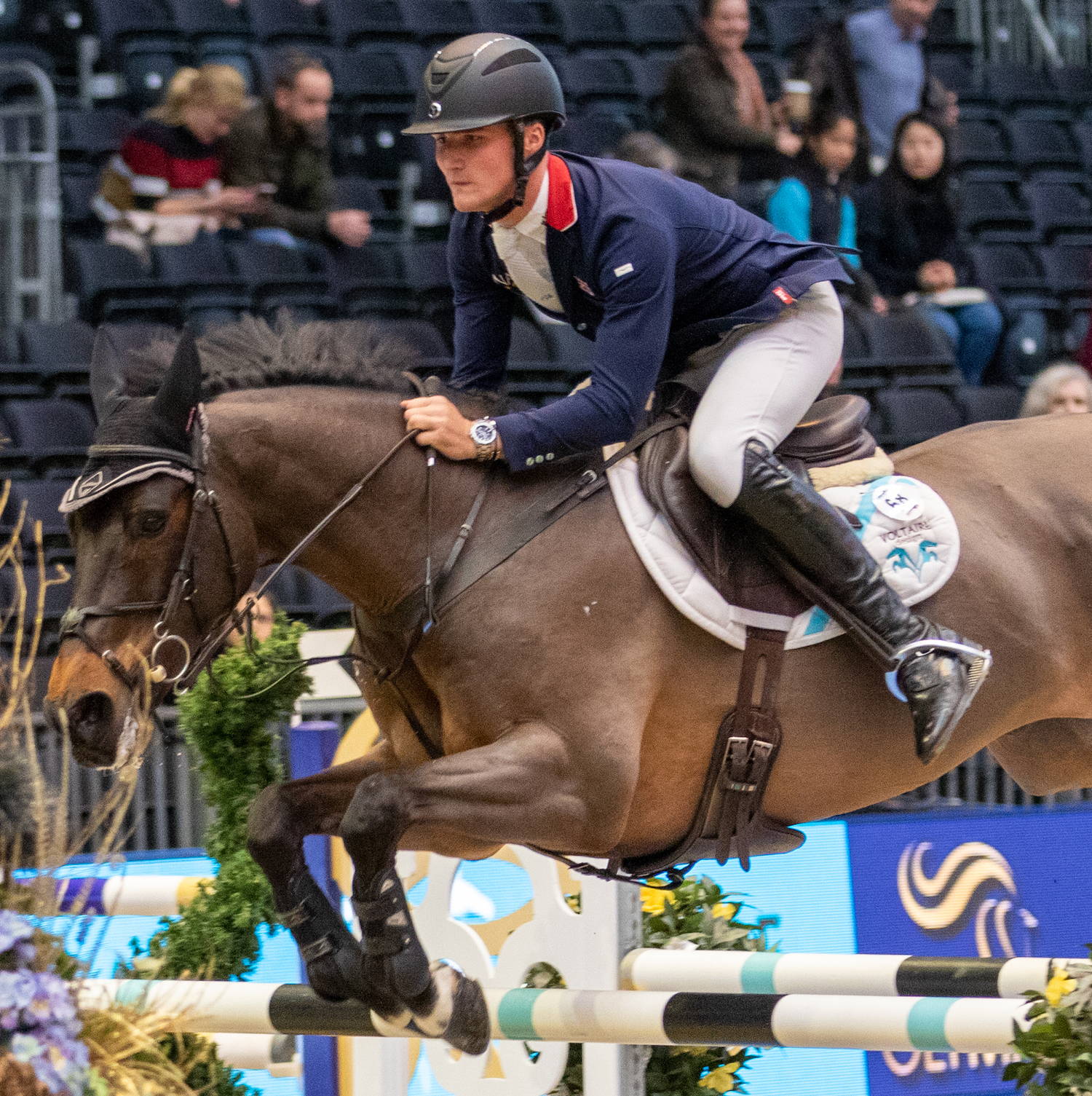 Will Fletcher
Photo: Lucy Hall Photography
Will's CV is highlighted by U18 and U21 national champion titles, and various top medals on the international youth stage. He has already been called up twice for the national senior team and is making his mark on the open Grand Prix circuit.
Olli has a gold, three silvers and a bronze medal from the European Youth Championships and was the youngest to win an International Stairway and Area Trial.
The aim for both this spring is the Senior Nations Cup competitions and, for Olli, excelling in the Junior European Championships in what will be his last year of eligibility. Olli has also set himself a goal outside of the horse world. On the 1st of February, he ran a half-marathon on behalf of the World Horse Welfare charity and hopes to contest the London Marathon in 2022.
Between show ring successes, independent adventures and ever advancing horsemanship knowledge, Will and Olli are poised to fill their parents' impressive shoes and carry the family show jumping flag far into Great Britain's future.
Get the Haygain Newsletter
Subscribe for the latest news, health advice, special offers and competitions. Fill out the form at the bottom of this page.