Joe Stockdale and Haygain have grown up together.
Joe's father, the much-missed show jumper Tim Stockdale, was one of the first to embrace Haygain Hay Steaming after it was commercially introduced in 2009.
"I remember my dad getting quite excited about it when he brought me out to show me this new bit of kit," recalls Joe. He's now 24 and making his own mark on the international show jumping world. In 2022, he was the youngest member of Team Great Britain when it earned its first jumping medal – a bronze – at the ECCO World Equestrian Championships in Herning, Denmark.
"My dad was always looking for some new gadget or method that would be beneficial for the yard and our horses," Joe says. "I have a memory of him showing me the hay steamer and that he thought it was fantastic."
Haygain has been part of the Stockdale yard in Northamptonshire ever since. Rumor has it, an original Hay Steaming chest is still in service, along with three of the steamers the Haygain line now includes.
All In on Steamed Hay
"All my horses get Steamed Hay and they all prefer it to normal hay," Joe reports. "Sometimes, we try to slide in a piece of unsteamed hay and they don't really want it as much. We have our steamers on timers, so it's built into our routine and we're never short of steamed hay fresh out of the box. It's dead easy to do, and the benefits far outweigh that little bit of organization it takes to set up the routine."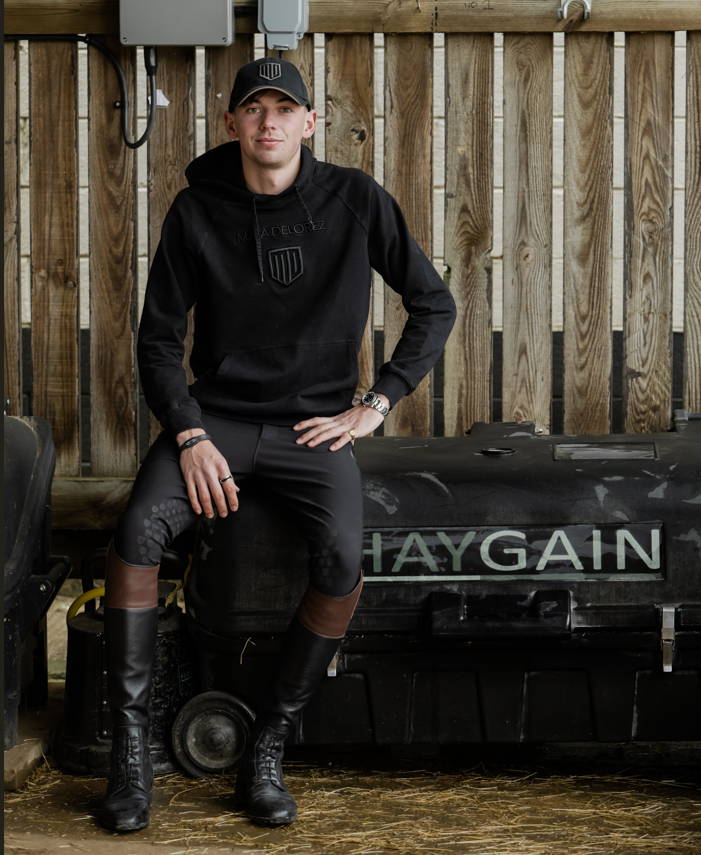 Along with his Olympian father's gift with horses, Joe inherited his open mind toward "any way we can improve the yard and give our horses that little extra percent that makes all the difference," Joe says. "All the little bits make a huge difference in their performance."
In an expanded partnership with the talented young horseman, Haygain now provides Joe with three of those "little bits" that positively impact his horses' well-being and performance. In addition to Haygain Steamed Hay, ComfortStall Sealed Orthopedic Flooring and the Forager Slow Feeder became part of Joe's program earlier this year.
"For us, it's all about going with the products and partners that we believe in and that we use," Joe says. "It's important to have partners with whom our morals and everything else aligns."
ComfortStall – Give & Stability
"When I first saw ComfortStall I knew it would not only be an upgrade to what we had in our stables, but that it is a product that's leading the way in its field. It's a new idea and new technology and ComfortStall is doing what no other product is doing."
ComfortStall Sealed Orthopedic Flooring consists of dense foam cushion topped by a durable rubber, single-piece cover that seals to the stable wall for an impermeable surface.
Joe's partner in the historic World Championships team bronze, Equine America Cacharel, took to ComfortStall as quickly and enthusiastically as Joe did. "She walked straight into the new stall, took a few sniffs and steps, then got right down on it. After a few moments of realizing it was something new, 90% of the horses got right down on the new flooring and had a play on it."
The cushioned surface encourages horses to lie down for the deep rest and sleep that all athletes need. And the smooth, tractioned surface makes for easy ups and downs.
"We had normal rubber matting over concrete before, with massive amounts of bedding, but it didn't really do the same job as ComfortStall. ComfortStall's cushion is great and being fully sealed to the stable wall eliminates shavings, dirt, muck and moisture that used to get under the matting."
More Than Comfort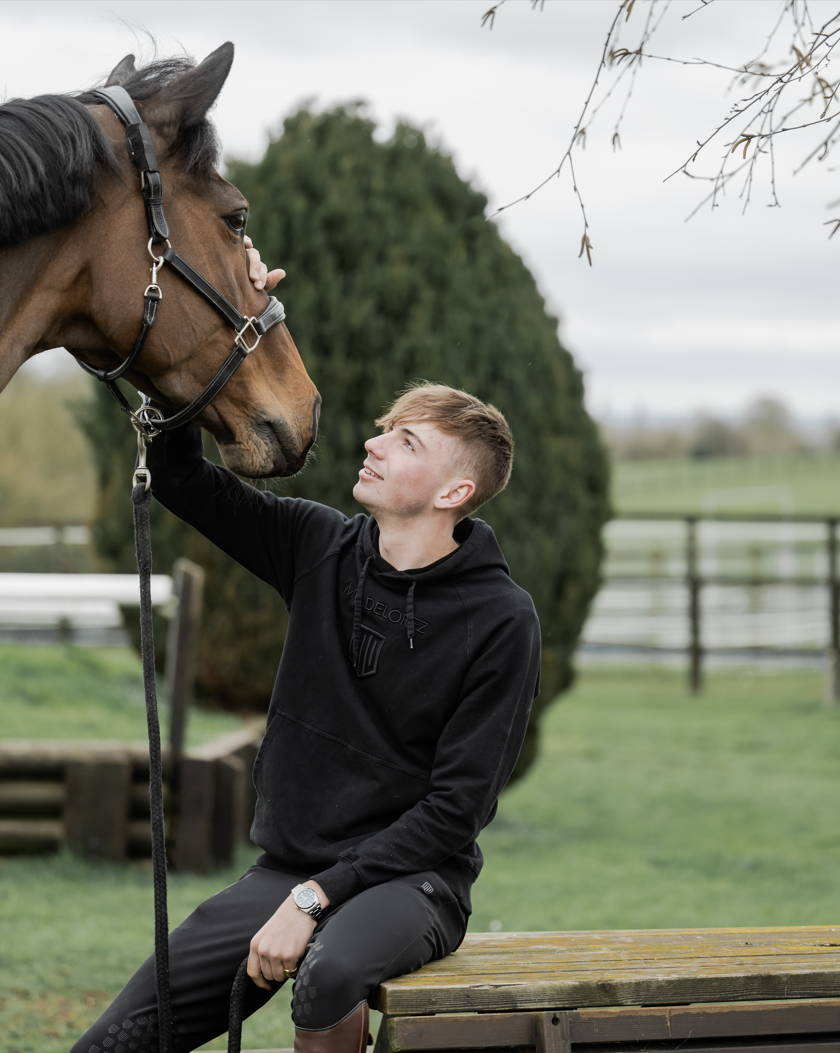 Joe thinks ComfortStall will provide much more than comfort to his horses. He describes it as having the perfect balance of give and stability. "When the horse is standing still, they're solid – they're not losing their balance. As they walk on it, they are using all those little muscles around the foot because of the extra give. It's like them walking in a field.
"In the long term, I think it may make them stronger."
In exercising his horses, Joe believes in working them on a variety of surfaces, including slightly uneven ground. It builds proprioception and natural balance that helps with agility, flexibility and strength. He thinks the time his horses spend on ComfortStall will also help build those qualities.
"Cash," a now 11-year-old mare found by Joe's dad, is also a big fan of the Forager Slow Feeder. The Forager is the third piece of kit in The Haygain Way's management-based approach to long-term horse health. Its most popular use is for horses that need to eat more slowly.
For "Cash," it's helped her eat, period.
"She's a very fussy eater," Joe explains. "She's very alert and sticking her head out the door to see what's going on to the point she almost forgets to eat. It's really kind of funny. As soon as we got the Forager, she just keeps picking away at her food. I think it's a bit of a game for her – a challenge. Whatever it is, it's great because we've always struggled with keeping weight on, and this helps."
Athlete's Mindset
All three of Haygain's products fit Joe's forward-thinking approach to the care of his equine athletes. Having played high-level cricket before devoting full time to horses, Joe has an athlete's mindset.
He sees those at his level of equestrian sport moving in the direction of human performance ideas and strategies. "I think people are starting to realize how those extra little bits can make a difference and we are being more picky about how we choose to train the horses. There are so many more factors coming into it that kind of got overlooked in the past. It used to be the rider might see a physio, but not the horse. Which made no sense!
"I'd like to think that if a professional footballer came to our yard, he'd see very few things done in that sport that we're not doing for our horses here."
Ice boots, massage rugs and a water treadmill are among the everyday therapies Joe's horses enjoy. Plenty of time in turn-out and a varied routine throughout each day, and in their conditioning and training routines, helps their bodies and brains.
They have plenty of hands-on time with Joe and his grooms, and time to do as they please in the field or indoor school.
Old & New Horsemanship
As a horseman, Joe embodies a unique mix of old-school horsemanship and the embrace of new ideas and technologies.
He understands first-hand that any goal involving horses relies on an usual amount of variables coming together at the right time. That's especially true with Olympic aspirations. With Nations Cup and World Championships experience under he and Cash's belt, the 2024 Paris Olympics are in their sights.
While many of the variables involved are not in a rider's control, the care, comfort and feeding of Joe's horses is very much under his control. Hence his alliance with Haygain and its line of science-backed horse health equipment.