Family Pony's Unusual Digestive Issues Lead Proactive Owner to Steamed Hay
After living in Germany and moving to his new home in England, 'Rocko' wasn't quite 'right,' but "within 24 hours of getting steamed hay, he was passing better droppings."

By Kim Miller | Equestrian Writer
Diarrhea, colitis and irritable bowel syndrome can be taboo topics in polite society. Teresa Wilson, however, was desperate to discuss and dive deeply into anything she could find out about these digestive issues when they presented in the family pony, Rocko.
And not because he's a fancy, expensive show pony. Teresa found Rocko on sale from a military riding school while living in Germany a few years ago. The price was right for him as a companion for her now 21-year-old Thoroughbred/Shire cross and for her young girls. Teresa thinks the bay/dun-coloured, dorsal-striped native pony may have come across from Eastern Europe as part of a traveling entertainment troupe.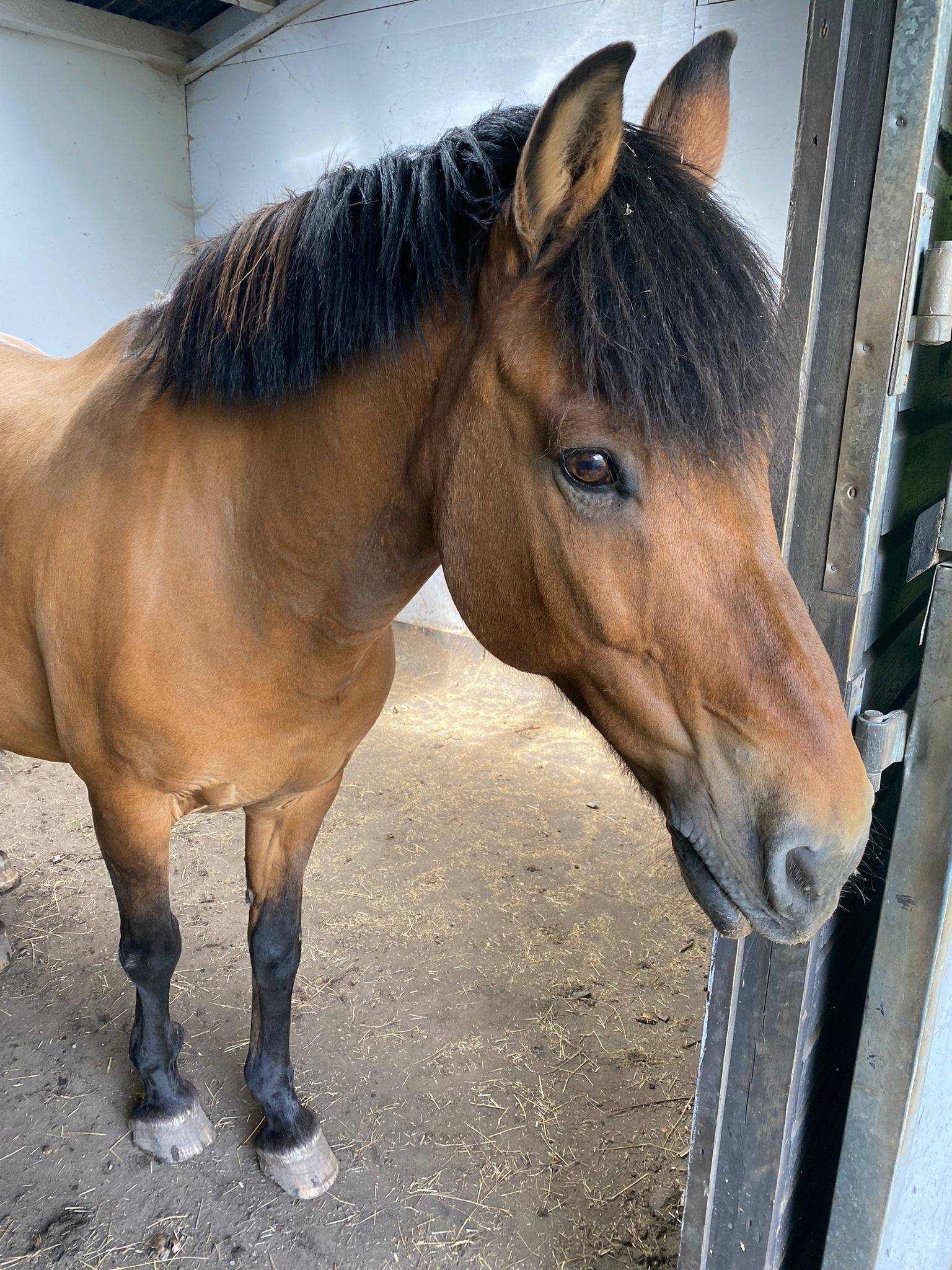 His bombproof temperament was perfect and "he was a bargain, or so I thought." That was the case through Rocko's first few years with the Wilsons. They lived on a military base in Germany, where Rocko was initially part of a herd that roamed 40 acres. He ate mostly grass and moved around constantly, the lifestyle for which Mother Nature designed the equine digestive system.
After the Wilsons' move back to England, to Finchamstead in Berkshire, Rocko assumed a lifestyle more typical of domestic horses: spending much of the night stabled and eating mostly hay, especially through the winter. The first warning signs were subtle. "He wasn't quite right," Teresa explains. She called the vet fearing a colic, but Rocko had recovered before the vet could come out. The only thing she noticed amiss in the aftermath was that his "already messy stools" were compounded by liquid, sometimes passing at the same time, sometimes not.

So began Teresa's investigation of fecal water syndrome, a little-known condition related to, but separate from, diarrhea. Diarrhea is difficult to pinpoint a specific cause for and FWS, even more so. In both cases, care providers and horse owners focus on anything that could be disrupting function in the gastrointestinal tract. Trial and erroring various diet and lifestyle changes is the most common path to solutions.
Teresa's research led her to wonder if the FWS and diarrhea might stem from ulcers. Rocko's veterinarian thought ulcers were as good a guess as any. Teresa treated it as that and Rocko otherwise seemed to feel fine. In the winter, however, a severe bout of diarrhea, along with FWS, returned and Rocko was again acting out of sorts.
Natural treatments, like slippery elm and psyllium, used for irritable bowel syndrome and other digestive conditions, helped to bring it under control. Yet Teresa worried that underlying causes lingered. She had Rocko tested for Cushings Disease and was relieved by negative results. A stomach scan, however, turned up colitis, or inflammation of the colon. Rocko was put on corticosteroids to get the inflammation under control. In the meantime, Teresa continued research into digestive function and diseases that is as long and complicated an endeavour as the horse's digestive process itself.
That's when Haygain High Temperature Steamed Hay jumped onto her radar screen. Although Steamed Hay is often central to respiratory health discussions, it also has digestive benefits that made sense to Teresa immediately. She realized that Rocko's issues corresponded to switches from mostly grass to mostly hay diets. "My thought process was that steaming softens the hay and gets it back to a state nearest to grass, so that it's easier to digest and break down. I had to do it."
"Within 24 hours of getting steamed hay, he was passing better droppings," reports Teresa, a stool sleuth of the highest order when needed to help her horses. A little longer on Steamed Hay and Rocko went from better and better to best. "Steamed hay has made a massive difference for him."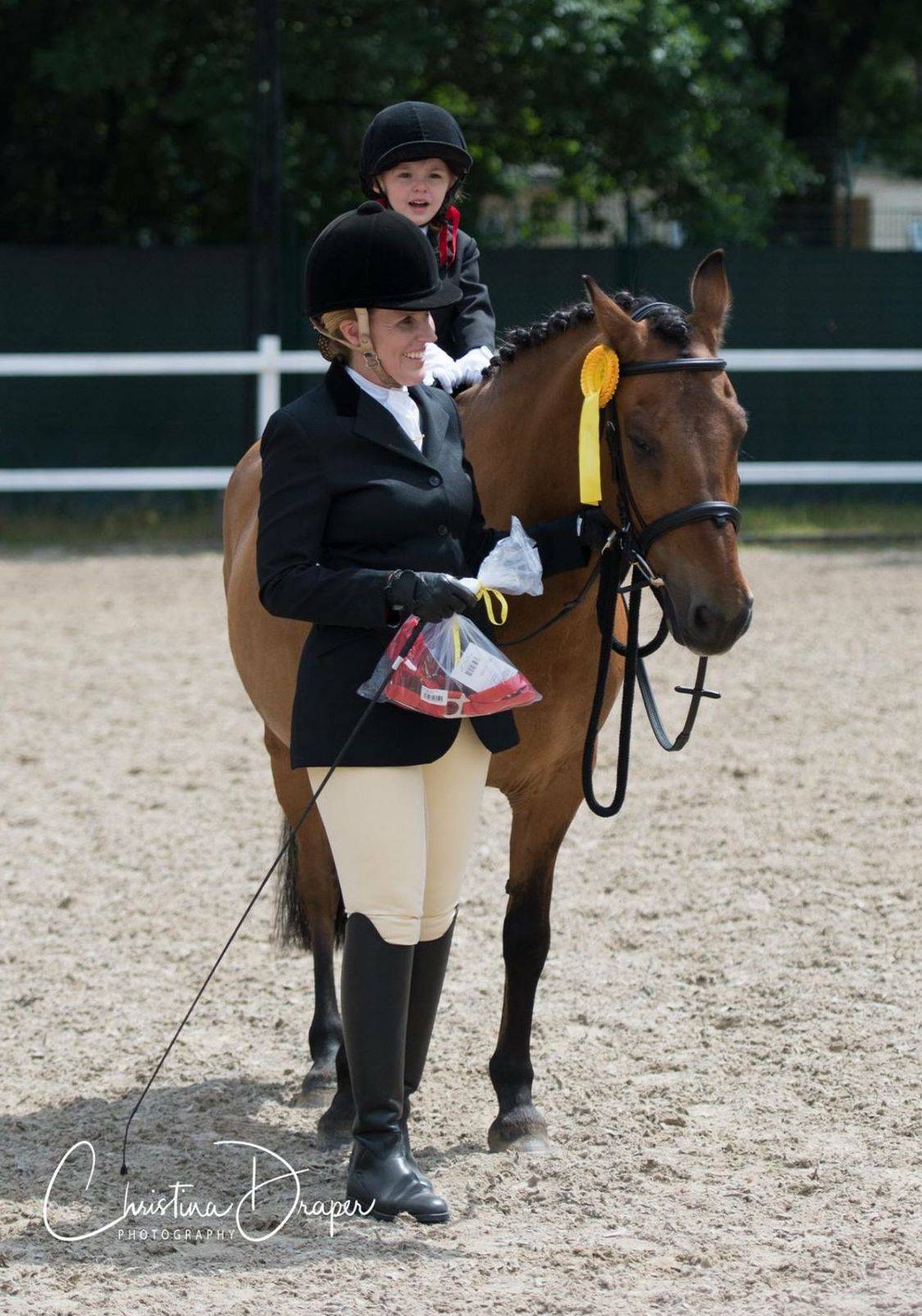 The research that led Teresa to Haygain also led her to Equibiome in Wales, an organization researching how the microbial population in the hind gut can cause myriad health issues, including laminitis, colic and ulcers. She sent a manure sample off to Equibiome for testing and got back a 30-page report detailing every bacterium in her pony's hind gut. Among other revelations, Teresa learned that Rocko did not have a lot of the bacteria capable of breaking down the woody structures in hay. She believes that the softened Steamed Hay helps him compensate for that. She also started hand grazing him in hopes of bringing more bacterial diversity to his diet.
Teresa notes that horses were designed to wander for most of the day, eating bits and pieces along the way and resulting in a healthy, diverse balance of bacteria in the gut. "Now we put the horses in the stable, or in the 2-acre field with lush grass. If we see a weed, we spray it. Hence, we have all these problems because horses are not eating the right plants or a diverse range of different plants."
While talking with Haygain staff in their Lambourn headquarters, Teresa was pleased to learn about a recent study on the effects of pre-feeding treatments on the hay biome. "The results added to the body of evidence suggesting that High Temperature Hay Steaming is the most suitable pre-feeding treatment for equine health, explained Dr. Simon Daniels. Dr. Daniels is the lead researcher on The Hay Biome: Characterizing the viable bacterial community profile of four different hays for horses following different pre-feeding regimens." The study was conducted at the Royal Agricultural University in Cirencester, England, and published in November, 2020, on PLoS ONE, the peer-reviewed scientific journal.
Since starting on Haygain Steamed Hay in March of 2021, Rocko has not had a single bout of diarrhea or fecal water syndrome, Teresa reports. And that's without steroids that had her worried about his future. "If I couldn't have kept his diarrhea under control, he would have been a welfare case. I would have had to consider putting him to sleep."
As a plus, Haygain helped Rocko's stablemate, 21-year-old Thoroughbred/Shire cross Chester. "His coughs and nasal discharge have all cleared up: It's been brilliant for him, too!"
Teresa hopes that her investigation into the root causes of Rocko's issues will help other horse owners. "It is believed that hind gut ulcers affect up to 85% of domestic horses and they can manifest in a whole range of symptoms. We are only on the cusp of understanding these problems and how conditions in the hind gut biome can affect horses."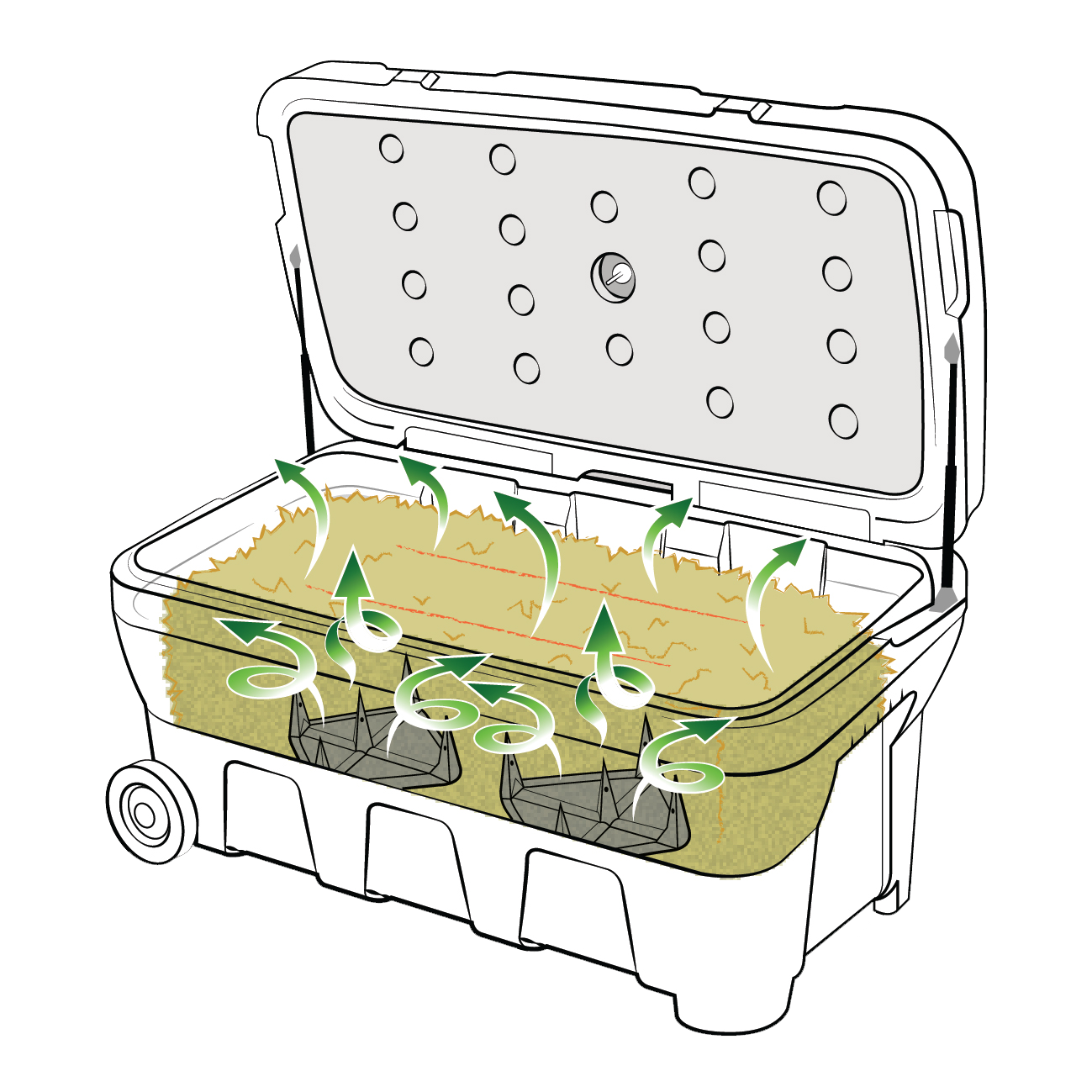 Want to know how it works?